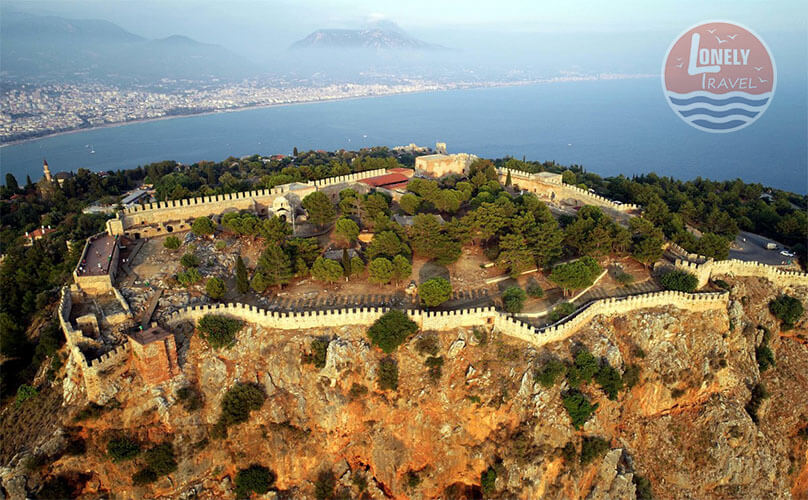 On

January 20, 2020

In Blog
No Comments
Alanya Castle
Alanya Castle is one of the important historical centers in Alanya district of Antalya. The total length of the wall of Alanya Castle surrounding Alanya Peninsula is 6 and a half kilometers. It is known that the castle dating back to the 13th century was built by Alaeddin Keykubat on 13th Century. This castle, located on Alanya Peninsula, whose height extends to 250 meters from the sea, is one of the important tourist centers of the District. This castle, which has survived for centuries, attracts tourists during the summer and winter seasons.
Built to surround the peninsula with 83 Towers and 140 signs, Alanya Castle ends at Red Tower. It has an exquisite view from the outside, as well as an excellent view from the inside. In addition to keeping various historical monuments such as the head of Aries and inscriptions, you can witness the history of the region known as the inner castle. The inner castle, which forms the entrance section of the castle and contains historic houses and cafes, stands 250 metres above sea level. If you are on your way to Alanya, We recommend that you visit Alanya Castle, which is frequented by thousands of tourists every year.
How To Go To Alanya Castle?
Alanya Castle is quite high in terms of location, but there are different alternatives for transportation. Although the castle is 136 Km from the center of Antalya, it is located in the center of Alanya district. Let's look at the alternatives going to Alanya Castle in more detail:
On foot: Yes, it is also possible to get out of Alanya castle without a car. But of course you have to risk a solid March for this. You get a chance to see the breathtaking view of Alanya on your way out. However, especially if you have young children with you, it is important to note that this path is not very suitable for you.
By car or taxi: transportation to the castle can also be provided by vehicle. For this you can use your own car or you can use a taxi. If you are going to provide transportation by car, we would like to remind you that you have to climb a winding slope. There is also a car park at the entrance of the castle where you can park your car safely.
City bus: in addition to these, transportation to the castle can be provided by bus. Within the city bus number 4, Alanya Castle can be reached very comfortably. You can easily choose the number 4 bus line, which runs once an hour.
Cable car: transportation to the castle can also be provided by cable car. It is possible to buy one-way cable car tickets as well as round-trip. You can take the cable car running until 22: 00 in the vicinity of Kızılkule or Damlataş cave.
Alanya Castle visiting hours and entrance fee
Alanya Castle visiting hours vary in summer and winter. Although visitors flock every season, of course it gets more crowded in the summer. Therefore, the castle is open until 17.30 in the winter season and closes at 19.00 in the summer season. The opening time is 8.30 and this time does not change in summer or winter.
Alanya castle entrance fee is 24 Lira. It is also worth reminding that the museum card passed at the entrance to the castle.